Taunton - Wellington Road
Our Taunton day nursery and pre-school is located on the Wellington Road. We offer high-quality childcare for families in Taunton, Wellington and the surrounding areas. The purpose-built setting benefits from large, well-resourced rooms, free-flow access to a walled garden and on-site drop-off and collection parking.
The nursery is divided into three groups, each reflective of children's ages and stage of development, with routines, activities and learning experiences meeting each child's individual needs. Our Baby Room caters for children up to the age of 2 years old Our Bouncy Room caters for children between the ages of 2 and 3 years and our Pre-school is for children aged between 3 years and starting school. We have a large outdoor area which is used daily by all children for a wide range of activities covering all areas of learning and development.
All meals are freshly cooked on the premises by our qualified and experienced Nursery cook following a seasonal menu. Our kitchen is regularly inspected by Environmental Health and we have maintained the highest 5* rating consistently since opening.
Our nursery enjoys strong links with the college but is run independently with all-year round places available to families from the wider community as well as term time only places to meet requirements of parents who are students at the College.
The nursery is open all year round (except bank holidays and the Christmas Week), Monday to Friday from 7.30am to 6.00pm, with the flexibility to book additional sessions from 6.00 to 7.00pm (in accordance to demand and availability).
Meet our Nursery Manager: Louise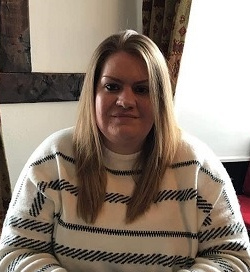 "We offer a safe, caring and stimulating environment for all children where they are cared for by well qualified and experienced staff. Our effective key person system ensures that each child's needs are met and their age, stage of development and current interests are reflected in their individualised learning programme to ensure that each child makes good progress from their starting points towards the early learning goals to ensure they are equipped with the skills to ensure they are confident, social independent learners when they make their next transition onto school. Through carefully planned activities and routines we encourage the skills that children need to learn to live, play, work and learn together. We see parents as partners and the most important educators for their children, with our fantastic online learning journeys, we offer an effective, frequent, two way flow of communication where parents really do play a big part in their child's nursery life."
Mama Bear's Taunton - Wellington Road
Bridgwater and Taunton College
Wellington Road, Taunton
Somerset
TA1 5AX
---
Are You Entitled to Free Sessions?