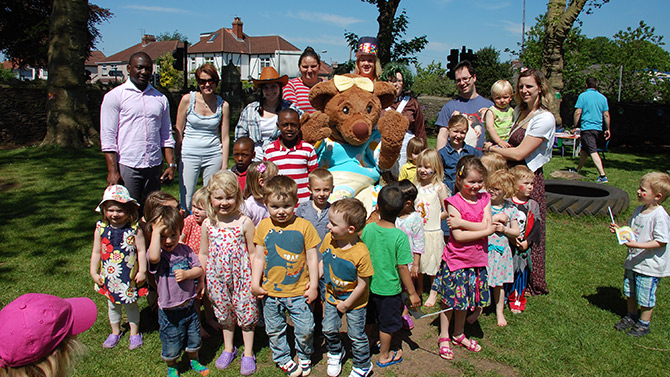 Essential Info
---
For advice on the national restrictions use the link below:
---
Opening Times
We want to support all of our families as much as we can and one of the ways we do this is through extended opening hours. Our nurseries are open 7.30am-6.00pm, Monday to Friday*, all year round except bank holidays and the Christmas Week (from when we close on Christmas Eve to 2nd January).
* The Mama Bear's in Yeovil, Plymouth, Bradley Stoke and Whiteladies Road (Clifton) open at 7.00am subject to availability.
---
Welcoming a child to the nursery
Children about to start nursery are recommended to make at least two familiarisation visits with a parent/carer to help them settle in.
On their first 'proper' day with us they will be welcomed by their Key Person and re-introduced to the other children. Whilst we try not to encourage children to bring their own toys from home with them, sometimes a teddy or blanket can be a comfort during the first few days. However, most children quickly settle in and enjoy their new surroundings.
---
Security
All visitors to the nursery are greeted and released by a member of staff. Only those who are pre-authorised to collect their child from nursery will be allowed to do so, unless approval is given by the parent/carer. Parents/carers are asked to leave an emergency number where they can be contacted.
---
What to bring with you
Each child should have sufficient clothes for their daily needs plus a spare set in the event of "accidents". Parents are asked to ensure that children do not bring valuable items with them, as the nursery cannot accept responsibility for any loss or damage.
Please bring sunhats and an adequate sun block during the summer months, Wellington boots, gloves and suitable outdoor clothing during the winter to ensure that your child can benefit from outdoor pursuits.
All clothes should be clearly labelled. Parents of babies and children who are not fully toilet trained are asked to provide enough nappies to last the day.
---
Medication
Children who have had Calpol or other medication that can reduce a temperature prior to their nursery session will not be admitted to the setting and we are unable to administer Calpol or other temperature controlling medication during the nursery session.' For children who are teething we are happy to administer teething granules.
We are able to administer prescribed and selected over-the-counter medications at our nurseries. Please read our medication policy for further information. Any medication brought into nursery must be clearly labelled with your child's name and date, and given to the Nursery Manager, who will ask you to sign a permission slip to administer that medication.
---
What to do in case of sickness
Any child who has, or develops, an infectious illness must be kept at home in order to help prevent the spread of illness. This includes conditions such as vomiting, diarrhoea, discharges from eyes or mouth, conjunctivitis, sore throat and obvious rashes. In particular, any child suffering from vomiting or diarrhoea must be kept at home until clear of symptom for a minimum period of 48 hours. Please call the nursery before 9.30am if your child is unable to attend. For more details speak with the Nursery Manager or ask for a copy of our complete sickness policy. If a child has been sent home from nursery with a high temperature, they will not be admitted into nursery for a further 24 hours. 
---
Babies
Baby milk is not provided by the nursery. Formula or expressed milk must be supplied by the parent/carer in bottles clearly labelled with your child's name. Weaning foods must be supplied in clearly labelled containers. All milk and food must be passed to the Manager on arrival for safe storage in the refrigerator.
---
Accidents & incidents
Despite extensive risk analyses and all efforts to remove hazards, accidents can happen. All such incidents are recorded, monitored and reported back to the parent/carer, who will be asked to sign an accident form. Where an accident is of a serious nature we will contact the parent/carer or the emergency contact to advise them of what has happened and what action is being taken. Where necessary we will contact the child's doctor or the emergency services.
---
Public liability insurance
Mama Bear's Day Nursery Ltd. is insured for accidental bodily injury to third parties or damage to their property.