Bridgwater - Express Park
This fantastic modern nursery is conveniently located just off the A38 Bristol Road, next to Avon and Somerset Police Centre, close to Morrisons RDC and easily accessible for families living to the North of Bridgwater.
We are offering high quality childcare for babies from 3-months to children 5-years-old.
The nursery is open from 7.30am to 6.00pm every weekday, all year round (excluding Bank Holidays and the period between Christmas and New Year).
We are offering Flexi-Care which is ideal for those working parents/carers who have unpredictable working hours or changes to work patterns. Our Flexi-care Plan means you can arrange your childcare sessions around your working day and only pay for the sessions you require.
We are also offering government-funded sessions for all 3-4 year-olds and qualifying 2-year-olds.
All our staff are fully qualified and regularly undertake further training to ensure we meet the needs of each individual child.
These modern and spacious facilities offer a friendly, safe and comfortable environment for your little ones to explore and have fun learning.
This is a great location, offering some fantastic outdoor space with the added convenience of easy drop off and pick up with parking right outside the nursery.
All meals and snacks are provided along with a FREE uniform for pre-school children.
Demand has been high for this new Mama Bear's setting so please register your interest early to avoid disappointment (as spaces are limited) by completing the enquire form below.
Meet our Nursery Manager: Louise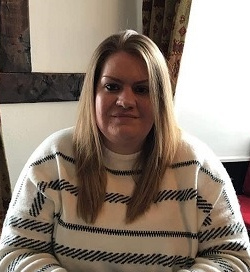 "We offer a safe, caring and stimulating environment for all children where they are cared for by well qualified and experienced staff. Our effective key person system ensures that each child's needs are met and their age, stage of development and current interests are reflected in their individualised learning programme to ensure that each child makes good progress from their starting points towards the early learning goals to ensure they are equipped with the skills to ensure they are confident, social independent learners when they make their next transition onto school. Through carefully planned activities and routines we encourage the skills that children need to learn to live, play, work and learn together. We see parents as partners and the most important educators for their children, with our fantastic online learning journeys, we offer an effective, frequent, two way flow of communication where parents really do play a big part in their child's nursery life."
Mama Bear's Bridgwater - Express Park
Mama Bear's Day Nursery
The Exchange, Express Park, Bridgwater
Somerset
TA6 4RR
---
Are You Entitled to Free Sessions?